Twin Peaks Fest
Date completed: August 1, 2012
On April 8th, 1990, Twin Peaks first aired on TV. I was in 7th grade and instantly hooked.
The show only lasted two seasons, but my obsession continued through the years. Tie-in books and audio tapes were released, and, of course, I had to have them. In 1993, the US TV network Bravo rebroadcast the show, and I made sure to have my VCR ready. Boy, did I wear those tapes out over the years. The show had a red-orange hue to much of it, and after multiple rewatchings, that hue caused the VHS footage to be very smeared.
During my first year of college, I had heard that the nearby academic fraternity-type group called Computer Science House was going to be showing the whole series. I struck up a conversation with a few of them, and it turned out they were missing a few of the episodes. My VHS tapes came to the rescue, and they had the complete series. I joined the house the following year, and we even had a Twin Peaks-themed toga party!
During the summer of 2001, a house member was working in Seattle and had heard about a nearby event called Twin Peaks Fest. The event is a weekend-long, celebrity-attended festival celebrating the show, occurring in the towns where iconic locations on the show still exist.
I had to go, and needless to say, I did... again, and again, and again! It's hard to put into words, but there is such a tremendous camaraderie at the fest; something that I'd never found anywhere else. You're just surrounded by so many smart, creative people, all for the love of a TV show that only lasted two season plus a prequel movie. It's an instant connection. Even the actors from the show who attend are very generous and humble. It's basically like a family reunion; no pretense, no ego. It's an amazing environment to live in, if just for 3 days.
Organizing the fest
After attending for a few years, I began coordinating flight arrival times and ride charts. The organizer at the time was looking for a team of organizers to pass the fest on to, and seeing the work that I'd been putting in, she asked me to be one of the organizers.
[I still need to write this section about initial years running the fest.]
Organizing the fest was always a fun, busy, and hectic time. We even made a few "red rooms" over the years. Here we are making a newly painted zigzag floor and new red curtains. I also posted a bunch of festival photos from over the years, so check them out if you're so inclined.
My DVD Debut
Fast forward to October 30, 2007. Forget that Halloween was the next day, this was Twin Peaks Tuesday! For the first time ever, a complete box set of the series was released on home video. There had been previous, lesser quality releases, but never one set of the whole series. Not only that, but they even released a second soundtrack for the show! Never in a million years, would I have thought that 15 years after Twin Peaks ended, they'd be releasing more music. It was a great day.
I even had the amazing honor of actually helping out with the production of some of the special features! You'll see little ol' me chatting up a storm about the Twin Peaks Fest in the special feature "Return to Twin Peaks" on disc 10 of the set, and I narrate the location tour section. Many thanks to DVD producer Charles de Lauzirika and his team for producing such an amazing set. It had an Amazon.com sales rank of #1 in several categories during the first few weeks of release, and it won in the category of "Best Extras" at the 2008 TV DVD Awards! I'm so proud to be part of those extras.
Seven years later, Charles and his team put together an even more amazing Blu-ray set for the series, which for the first time ever included David Lynch's Twin Peaks sequel feature film AND over 90 minutes of HD deleted scenes from that film. Thankfully, the two special features that I was involved in were also brought over onto this set as well! My Twin Peaks legacy lives on!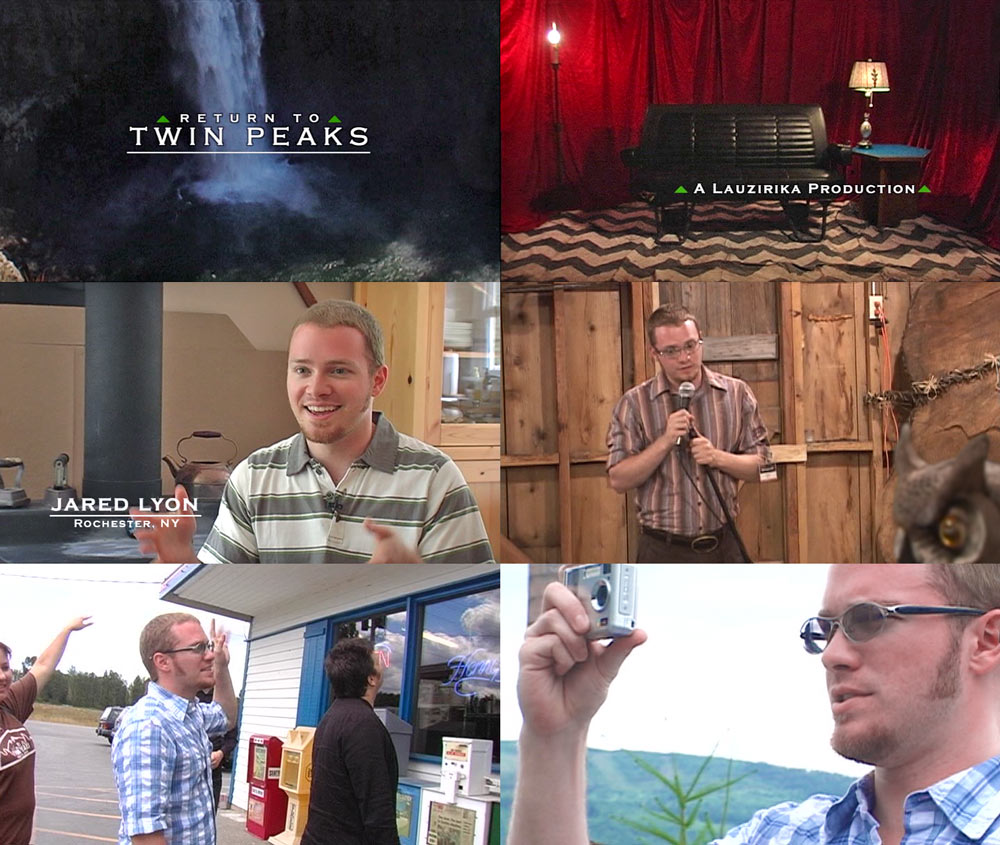 [I'll write more here too... just need to find the time!]