Purgatory - Twin Peaks meets The Shining
Date completed: April 22, 2013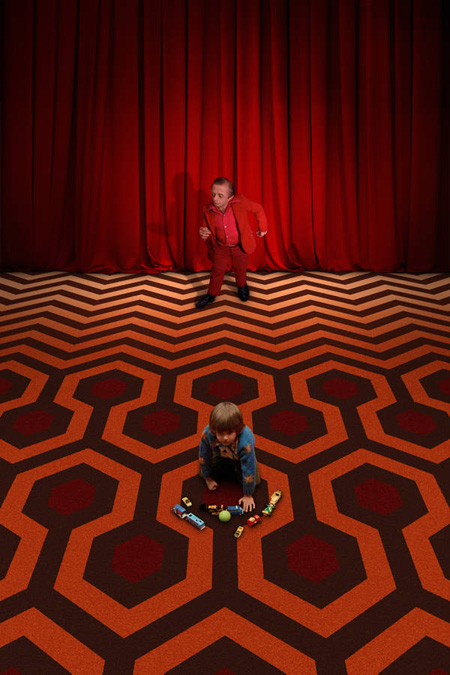 Both the red room from Twin Peaks and the whole Outlook Hotel from The Shining can be view to represent purgatory. They both also have extremely iconic floor patterns, and one day I noticed that I could combine the two patterns rather easily. After a few weeks of playing around off and on, the final product was finished. Originally, I created the images without the characters, but in the end decided to add them in.
You can view a larger version of the poster on its Deviantart page.
Recognition
In late April 2012, after the project had sat on my computer desktop for over a month, I finally published the work online. For the next few weeks, it seemed like everywhere I turned people were talking about it.
The Welcome to Twin Peaks Facebook page post about it received 4,500 likes/shares in just a few weeks.
A Tumblr page devoted to the fictional Overlook Hotel from The Shining received 3,000 likes/shares their post about it.
Award-winning documentarian and DVD/Blu-ray producer Charles de Lauzirika (who I met during production of the Twin Peaks DVD box set that I am briefly featured on) posted it on Facebook and was happy to know he knew the creator.
Director Lee Unkrich (Toy Story 3, Toy Story 2, Finding Nemo) tweeted about it (he's a huge The Shining fan).
Director Mark Romanek, who directed some of the best music videos in the world (David Bowie's Jump They Say, Madonna's Rain, Michael and Janet Jackson's Scream, Nine Inch Nails' Closer, Johnny Cash's Hurt, Lenny Kravitz's Are You Gonna Go My Way) retweeted Unkrich's post.
Needless to say, I'm very happy with its popularity.
Two great tastes that taste great together. pic.twitter.com/IgPdEoTGz2

— Lee Unkrich (@leeunkrich) April 28, 2013