Recipes from a Maple Queen
Date completed: March 29, 2012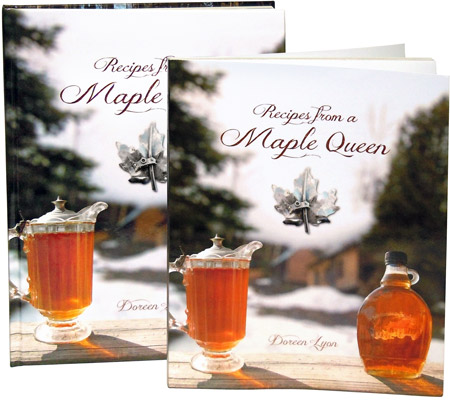 For a few years, my mom had been throwing around the idea of making a simple, spiral-bound cook book of recipes containing maple syrup for her relatives. When I was back home for Christmas in 2010, she posed the idea to me, and asked for my help producing it for Christmas 2011.
I had recently been reading about a few different print-on-demand sites that allowed you to upload a designed and laid out book, and when an order comes in, they print and bind it right then. The beauty of this idea was that we didn't need to store inventory, and also there is no need for upfront costs. If we were going to spend a year putting something together, why not make it available to the world? I also suggested using her 1970 Vermont Maple Queen status as an introduction to the book, and it also gives her a little authority on the topic. And with that, we decided to call her book Recipes from a Maple Queen.
It took a whole year of recipemaking, photographing, categorizing, and designing but by that next Christmas, we had the rough draft completed to show her parents and other relatives. The hardcover version came out officially at the end of February, and softcover came out in March, just in time for sugar season (spring thaw). To coincide with the books release, while I was home for Christmas, I shot a short video of mom making one of the easier recipes.
After the book had been out for about month, mom appeared on Vermont television station WCAX to promote the book. I mentioned to her that it was 42 years ago that same month that she previously appeared on WCAX for winning her title, and they also mentioned that little tidbit on the air. She also gives me a little shout out for pushing her to use one of the on-demand self-publishing sites instead of just making a spiral-bound book just for relatives.
If you've read this far, make sure you also view some of the amazing photos she took on the book's Facebook page or even purchase the book at recipesfromamaplequeen.com.